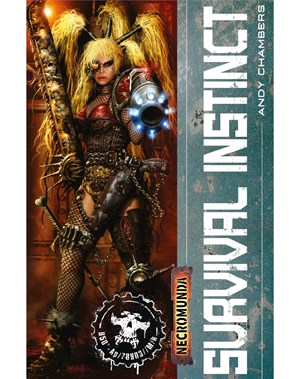 A book review of the novel SURVIVAL INSTINCT by Andy Chambers.
Welcome to the Underhive! My first foray into the world of muck, steel, slag and sump and I feel like I've made a very good choice with this book. The story follows the adventure of Mad Donna, a ganger with ties to House Escher who is trying to go it alone in the Underhive, whilst also trying to lose herself from ties to one of the Great Houses of the Spire – the vaulted top of the Hive City where all is clean, bright, airy and a tiny bit safer. The story focuses on one key adventure in her life and brings the Underhive to life with sight, sound and smell. You get a strong sense not only of how variable and rich with lore the Underhive is, but also how utterly vast it is when on the hunt and yet, at the same time, how small it can feel when your character is being hunted.
Each chapter begins with a short background snippet, which early on focus on records of events and places. General snippets that add flavour and a wider view on the world which helps remind the reader that this is but one story in a vast place. As the story progresses those snippets get more focused on the back story of our lead character, a neat way to fill in the growing desire from the reader to know more of her history that neatly slots answers into place. It's a powerful story telling method that is very well put to use in this book.
The book runs at a good fast pace and is heavy on action, but not at a cost of losing sight of building a story. There are slow sneaky periods; restful moments of calm and then mad moments of action.
All in all a very enjoyable read and a book that works totally as a stand alone read even if you've never read a single bit of Necromunda lore or background before.
Buy now on Black Library
Also for sale on Amazon and second hand in paperback on secondhand book sites.